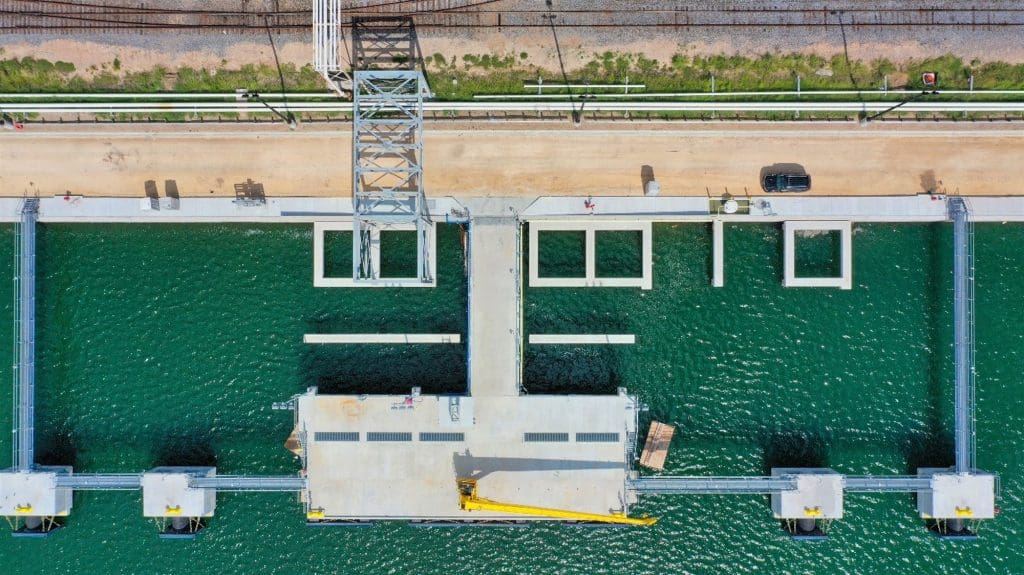 Welcome To
Triton Marine
Construction Corp.
Triton has been a progressive construction company since its inception in 1987 and has built a reputation for managing and executing complicated niche marine and civil construction projects. We are big enough to take on complex design build efforts, but not so big that we lose our ability to truly understand what our clients need and ensure that their best interests are maintained.
Triton specializes in a wide array of construction disciplines and focuses primarily on federal and municipal construction projects. Throughout our history, we have completed numerous construction and design/build projects for federal and local governments. Our customers include the United States Navy, Army Corps of Engineers, National Park Service, Department of Transportation, Department of the Interior, Department of Homeland Security, as well as many local municipalities and port authorities.
Featured projects
POSEIDON WHARF REPAIRS
Location: Cape Canaveral, FL
Triton Marine contracted with NAVFAC Southeast for a design-bid-build project to repair and renovate Poseidon Wharf at Cape Canaveral Space Force Station, FL. The wharf required multiple repairs to restore its original design capacity and extend its remaining useful life in order to service the needs of the Navy, Air Force, Merchant Marines, Coast Guard, NASA, and Space X.

This project involved construction of a 1200' x 60' concrete deck and three 60' x 60' access bridges consisting of repaired piles, repaired and new pile caps, CIP girder beams, concrete precast sections, a marine concrete topping slab, utility vaults, duct banks, fender system, communications, electrical, sewer, oily waste, sanitary sewer, demineralized water, fire water, potable water, and compressed air systems.
Project Tasks:
Demolition of 60-year-old derelict 45-ton portal crane
Demolition of 2400 LF of deteriorated crane rail
Demolition of 90,000 SF concrete wharf deck to include concrete precast sections and CIP girder beams
Spall repairs: Pile cap, beam, soffit, utility vault, sheet pile, deck, and piles
New mechanical systems, communications, and lightning protection grounding system
New electrical system including high mast lighting and outboard wharf lighting
1450 EA pile jackets (structural and non-structural) with passive cathodic protection system
Repair soil voids along seawall roadway
Demo and install new composite pile fender system
Read More
P258: NEXT GENERATION JAMMER WAREHOUSE, NASWI
Location: Whidbey Island, WA
Triton contracted with the U.S. Navy to design and construct a new Green Building Certified single-story 14,000-square foot Type IIB (non-combustible, fully sprinkled) pre-engineered building with a new 100 foot long by 44-foot-wide pre-engineered metal canopy to create a covered storage area.

Demolition of existing pavements and relocation of site utilities were required to prepare the site for construction. In addition, new pavements were provided to match existing, and concrete aprons were poured at exterior doorways.
The interior floor was constructed reinforced slab on grade with a design load of 200psf. The building included mechanical, electrical, and communication utilities.
Project Tasks:
Footings for concrete slab
Setting anchor bolts
I-Beams and Rafters
Storm drain installation
Extensive site work
Hauling of excess soils
Read More
services
testimonials
Lorem ipsum dolor sit amet, consectetur adipiscing elit. Curabitur orci lectus, interdum ac efficitur ut, ullamcorper in ipsum. Ut ullamcorper mollis justo eget tempus. Praesent convallis quam non fermentum tristique. Nulla tortor tellus, laoreet a sapien eleifend, consequat tempor quam. Cras volutpat viverra urna ut viverra. Proin blandit eros eros, nec laoreet eros scelerisque a. Cras sed fermentum risus, et scelerisque erat.

Nulla tortor tellus, laoreet a sapien eleifend, consequat tempor quam. Cras volutpat viverra urna ut viverra. Proin blandit eros eros, nec laoreet eros scelerisque a. Cras sed fermentum risus, et scelerisque erat. Lorem ipsum dolor sit amet, consectetur adipiscing elit. Curabitur orci lectus, interdum ac efficitur ut, ullamcorper in ipsum. Ut ullamcorper mollis justo eget tempus. Praesent convallis quam non fermentum tristique.

g elit. Curabitur orci lectus, interdum ac efficitur ut, ullamcorper in ipsum. Ut ullamcorper mollis justo eget tempus. Praesent convallis quam non fermentum tristique. Nulla tortor tellus, laoreet a sapien eleifend, consequat tempor quam. Cras volutpat viverra urna ut viverra. Proin blandit eros eros, nec laoreet eros scelerisque a. Cras sed fermentum risus, et scelerisque erat. Lorem ipsum dolor sit amet, consectetur adipiscin

Lt amet, consectetur adipiscing elit. Curabitur orci lectus, interdum ac efficitur ut, ullamcorper in ipsum. Ut ullamcorper mollis justo eget tempus. Praesent convallis quam non fermentum tristique. Nulla tortor tellus, laoreet a sapien eleifend, consequat tempor quam. Cras volutpat viverra urna ut viverra. Proin blandit eros eros, nec laoreet eros scelerisque a. Cras sed fermentum risus, et scelerisque erat. Lorem ipsum

dolor sit amet, consectetur adipiscing elit. Curabitur orci lectus, interdum ac efficitur ut, ullamcorper in ipsum. Ut ullamcorper mollis justo eget tempus. Praesent convallis quam non fermentum tristique. Nulla tortor tellus, laoreet a sapien eleifend, consequat tempor quam. Cras volutpat viverra urna ut viverra. Proin blandit eros eros, nec laoreet eros scelerisque a. Cras sed fermentum risus, et scelerisque erat. Lorem ipsum
Heavy Civil and Marine Construction
Design Build/
Engineering Services
Wastewater
Treatment Plants
Building Construction & Renovation
Bridge Renovation & Roadway Improvements